Fenton House Garden
Fenton House is in Hampstead. I had fun trying to capture the different textures of the leaves (in bushes, plants, and lawn). Plus the high contrast of the light and shadows. And the contrast between the blue flowers and the statue (and its reflection on the bush). The diagonal line of the path forms a triangle to frame the statue. This is the drawing I am making in the photo in the About section. 6.5 x 9 inches. Plein Air or Alla prima.
Afternoon in Chelsea Physics Garden
Chelsea Physics Garden is in London and has become a delightful scene of a Sunday afternoon picnic where numerous couples enjoy the garden, the lawn and eating at the cafeteria/restaurant. Here I try to capture the couples amidst the trees and vegetation. I later returned to this theme for an oil painting of Chelsea Physics Garden. 6.5 x 9 inches. Plein Air or Alla prima.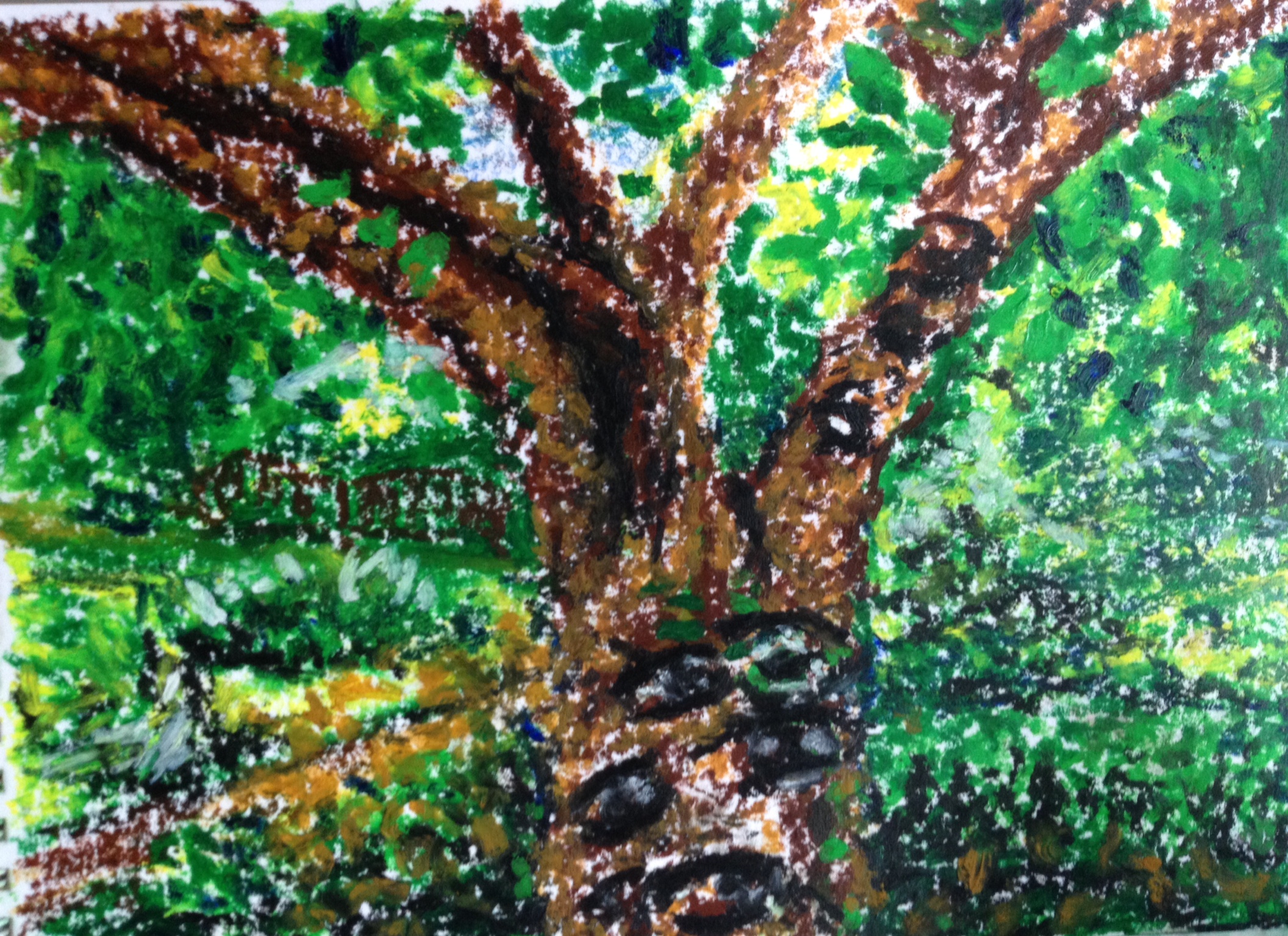 Palm Tree at Chelsea Physics Garden
Within the Chelsea Physics Garden there is a rich variety of plants. I tried to capture the different greens contrasted with the shape of the tree. 6.5 x 9 inches. Plein Air or Alla prima.
Bourton House Garden
Bourton House Garden is in Bourton outside Moreton-in-Marsh in the Cotswolds. It is a formal garden designed to complete the large stone mansion. The formal garden then overlooks open fields with sheep in the Cotswolds. The colors and shapes (bushes and stone, bushes vs lawn) attracted me. 6.5 x 9 inches. Plein Air or Alla prima.
Mille Dene Garden - Cricket Green
Mille Dene Garden is a delightful garden in Blockley. It is filled with love, whimsy and imagination. The garden is built on tiers. One tier has a miniature cricket green. Here is the contrast with the bushes, lawn, rolling hill covered in plants, and bench. 6.5 x 9 inches. Plain Air or Alla Prima.
Path through Mille Dene Garden
Mille Dene is in Blockley in the Cotswolds. The garden is built on a hill with many tiers. At the he lower tier there is a stream and a pathway across a bridge over the stream. I liked the contrast between the near bushes and more distant plants and the wooden bridge running across, above the stream to the right of the plant in the foreground. 6.5 x 9 inches. Plein Air or Alla Prima.
Wilderness outside Hidcote Garden
This is view from Hidcote Garden out onto the fields around Hidcote. This is the first oil pastel I did. 6.5 x 9 inches. Plein Air or Alla Prima.
Walking on Dover's Hill
Dover's Hill is a large park and natural preserve on a hill above Chipping Campden in the Cotswolds.